News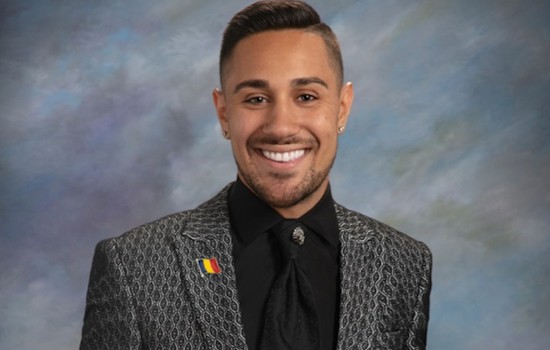 A warm welcome to Doru Munteanu Angelo, our new Chief Strategy Advisor!
Posted on: April 07, 2023
Congratulations and a heartfelt welcome to Doru Munteanu Angelo, our new Chief Strategy Advisor at the Honorary Consulate of Romania to Connecticut!
Doru (Drew) was adopted at the age of three and a half from Romania and grew up in Marlborough, Connecticut, currently residing in West Hartford, Connecticut. Beginning his journey by obtaining an associate's degree in Culinary Arts & Hotel and Restaurant Management, he then continued his studies at The School of Business at Central Connecticut State University, where he concentrated on his BBA with a minor in Corporate Law.
​Mr. Angelo is a passionate entrepreneur with more than ten years of experience in the business consulting and hospitality industry. He has worked for larger corporations, including Marriott International and Panera Bread. Mr. Angelo currently runs his own certified LGBTQIA minority-owned company, ONYX ELITE LLC, a boutique full-service business consulting firm, recently expanding to offer the company's services internationally. His firm has completed consulting work for several well-known companies, including Hartford Healthcare, Parkville Management, Feng Chophouse, Travellers Beach Resort, and Forge City Works. His industry knowledge and passion have inspired Mr. Angelo to open (ISBTM) - INTERNATIONAL SCHOOL OF BUSINESS AND TRADE MANAGEMENT, with sessions beginning in the fall of 2024. This 12-month trade school will offer an accredited business trade school certificate teaching students the core principles of Business Management. In addition, Mr. Angelo has been actively working to be a voice and an advocate for the state of Connecticut and the United States, working with various Governors, Senators, and community members to bring awareness to the importance of tourism as it increases economic development initiatives. Currently serves as the Chief Strategic Advisor to the Honorary Consulate of Romania; he is helping support philanthropic initiatives that support his home country and the state of Connecticut.
​Having a specific passion for Restaurants and the Event Management Industry, he is enjoying being a restauranteur as the Managing Partner/Owner of 3 restaurants of DUKES HOSPITALITY GROUP located in New Milford, Connecticut. This is in addition to planning many corporate, political/ municipal, and public events, such as participating in the planning of the Governor's Tourism Conference and the LT. Governors CT Woman in Leadership Mayoral Luncheon and functions for various town mayors throughout Connecticut. He is an exuberant host and has been a featured keynote speaker and event host at events including Raymond Hill - New Britain School commencement, Yale School of Business, and CT Minority Economic Summit.
Welcome Message from Doru M. Angelo:
"It is an honor to serve as the Chief Strategic Advisor to The Honorary Consulate of Romania to Connecticut. With my passion and professional background in brand management, organization operations, and event management, I look forward to bringing my skills to the office of the Consul. It is also my personal mission to make sure we further service not only residents of Connecticut that are of Romanian descent but our surrounding states and communities. The more philanthropy, programming, and events that we can offer, the more we can increase the impact of how we better serve both Romanian and United States citizens."