News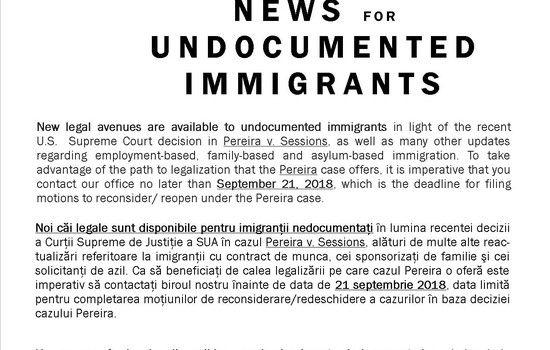 NEWS FOR UNDOCUMENTED IMMIGRANTS !
Posted on: September 12, 2018
New legal avenues are available to undocumented immigrants in light of the recent U.S. Supreme Court decision in Pereira v. Sessions, as well as many other updates regarding employment-based, family-based and asylum-based immigration. To take advantage of the path to legalization that the Pereira case offers, it is imperative that you contact our office no later than September 21, 2018, which is the deadline for filing motions to reconsider/ reopen under the Pereira case.
Noi căi legale sunt disponibile pentru imigranţii nedocumentaţi în lumina recentei decizii a Curţii Supreme de Justiţie a SUA în cazul Pereira v. Sessions, alături de multe alte reactualizări referitoare la imigranţii cu contract de munca, cei sponsorizaţi de familie şi cei solicitanţi de azil. Ca să beneficiaţi de calea legalizării pe care cazul Pereira o oferă este imperativ să contactaţi biroul nostru înainte de data de 21 septembrie 2018, data limită pentru completarea moţiunilor de reconsiderare/redeschidere a cazurilor în baza deciziei cazului Pereira.
Hay nuevas vías legales disponibles para los inmigrantes indocumentados a la luz de la reciente decisión del Tribunal Supremo de EE. UU. en Pereira v. Sessions, así como muchas otras actualizaciones relacionadas con inmigración en el empleo, basada en petición familiar y asilo. Para tomar ventaja del camino a la legalización que ofrece la decisión en Pereira, debe contactar nuestra oficina antes del 21 de septiembre 2018, que es una fecha límite para archivar mociones para reconsiderar o reabrir bajo la decisión en Pereir