News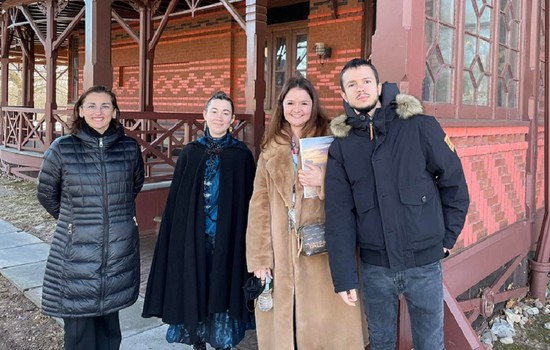 The Honorary Consulate of Romania to Connecticut announces new educational initiative
Posted on: March 06, 2022
The Honorary Consulate of Romania to Connecticut is pleased to announce a historic Connecticut - Romania educational initiative, signed today as a Letter of Intent to Collaborate by and among the Mark Twain International School Bucharest (MTIS), an International Baccalaureate-certified private K-12 school in Bucharest, Romania, with bilingual curriculum (English-Romanian), Românul - SUA, Românul Online School and the Honorary Consulate of Romania to CT. The purpose of this new educational partnership is to create a framework for developing joint educational programs for our students with the goal of furthering their education and understanding of the world as multicultural and bilingual citizens and to advance Romanian educational offerings in CT/ USA.
The representatives of MTIS Bucharest, Ioana and Petre Vlăsceanu, also visited the Stillmeadow Elementary School in Stamford where they met with its Assistant Principal, our very own team member Iuliana Roata, and discussed a potential collaboration opportunity.
MTIS delegation also visited with Mirela Panaitisor, owner of The New Old School of Music, LLC, to explore music education topics for Romanian children.
The MTIS visit to Connecticut concluded with a visit at the iconic The Mark Twain House & Museum, where we took the "Living History" tour with actress interpreting Mark Twain's (Sam Clemens's) wife and sat down with school programs coordinator Erin Bertram to discuss more educational collaboration opportunities with the Mark Twain House in Hartford, CT.