News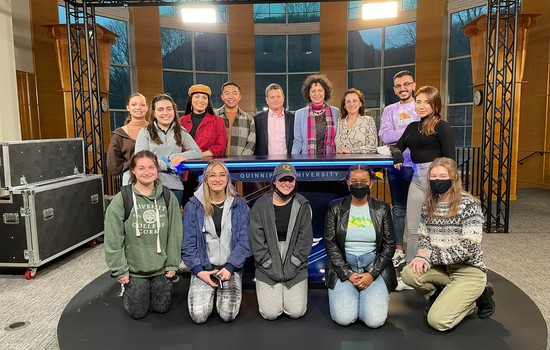 The Honorary Consul Dana Bucin met with students at Quinnipiac University
Posted on: March 08, 2022
The Honorary Consul Dana Bucin met with students at Quinnipiac University enrolled in the Public Diplomacy course, taught by Dr. Antoaneta Vanc, alongside Dr. Christopher Ball, Director of The Central European Institute at Quinnipiac University, and Honorary Consul of Hungary to Connecticut.

The course examines concepts, issues ,and practices in public diplomacy, or the management of a nation's communications and relationships with foreign stakeholders who have the ability to affect national and international interests.

On this occasion, both guest speakers addressed the many levels of cross-border activity at the Honorary Consulates of Central & East European nations - educational, commercial, legal, social/ Diaspora community, - as well as the impact that Russia's invasion of Ukraine is having on the regional response to the refugee crisis.

One of the goals of Quinnipiac University's Central European Institute is to host a Romanian Chair in addition to the already existing Hungarian and Polish Chairs, in order to further the cross-border educational exchanges with reputable universities in Romania at the level of student and faculty exchanges, joint coursework and internship opportunities. The Honorary Consulate of Romania to Connecticut is looking forward to continued collaboration with fellow Central and East European Honorary Consuls, towards more cross-border educational/ internship experiences between Connecticut and the nations of Central and East Europe.