News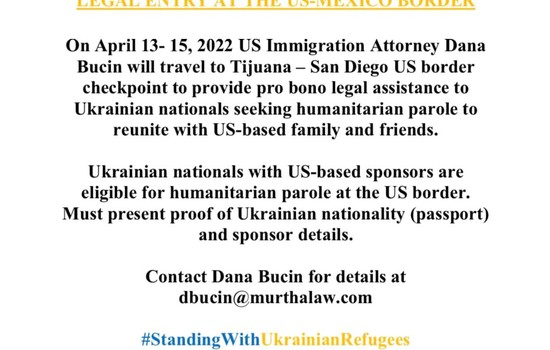 Mission to assist Ukrainians seeking legal entry at the US-Mexico border
Posted on: April 07, 2022
Honorary Consul of Romania to Connecticut and Immigration Attorney Dana Bucin will travel to the Tijuana - San Diego US border checkpoint on April 13-15 2022 to provide pro bono legal assistance to Ukrainian nationals seeking to reunite with US-based family and friends, some of whom come to the US from Romania where they benefited from temporary refuge and Romanian generosity.
Ukrainian nationals with US-based sponsors are eligible for humanitarian parole at the US border. They must present proof of Ukrainian nationality (passport) and sponsor details.
Anyone interested in this action can contact Dana Bucin at dbucin@murthalaw.com.