Events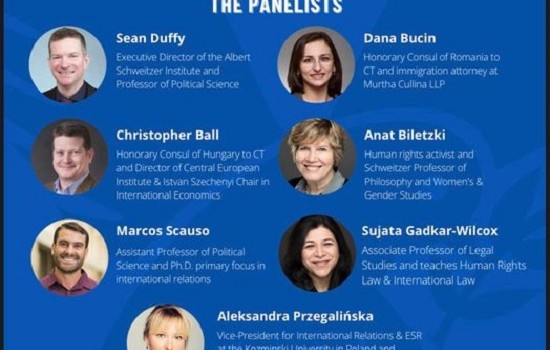 Honorary Consul Dana Bucin on the Quinnipiac Univerisity Panel "What's Next for Ukraine and the World?"
Posted on: April 26, 2022
Event date: April 27, 2022, 4 p.m.
Honorary Consul Dana Bucin is a featured panelist at Quinnipiac University's "What's Next for Ukraine and the World?" within the International Relations and Diplomacy Panel Discussion. The Panel will take place on Wednesday, April 27, at 4 PM at the Piazza. Dana Bucin will discuss the latest developments in Ukraine along with the other panelists: Sean Duffy (Executive Director of the Albert Schweitzer Institute and Professor of Political Science), Christopher Ball (Honorary Consul of Hungary to CT and Director of Central European Institute & Istvan Szecheny Chair in International Economics), Anat Biletzki (Human Rights activist and Schweitzer Professor of Philosophy and Women's and Gender Studies), Marcos Scauso (Assistant Professor of Political Science and PhD in Interntional Relations), Sujata Gadkar-Wilcox (Associate Professor of Legal Studies), and Aleksandra Przegalinska (Vice President for International Relations & ESR at the Kozminski University in Poland and Senior Research Associate on AI, robots and future of work at Harvard University).