News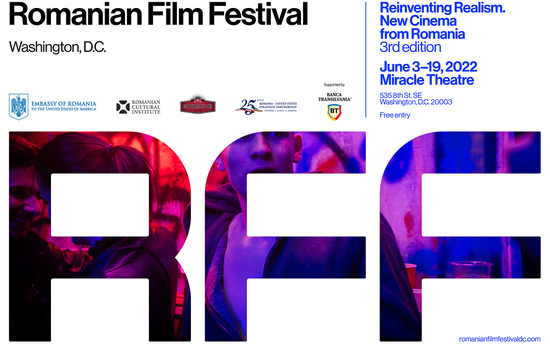 The Honorary Consulate recommends The Romanian Film Festival in Washington DC
Posted on: June 02, 2022
Opening tomorrow, June 3rd, The Romanian Film Festival in Washington DC is running at Miracle Theatre, DC, through June 19th. The Festival is at its third edition, currently under the motto "Reinventing Realism — New Cinema from Romania. Offering free entry to the events taking place over three consecutive weekends, the festival is aiming to gather lovers of Eastern European cinema for a variety of screenings, followed by Q&A sessions with actors and directors.
The festival is organized by the Romanian Embassy to the US, Romanian Cultural Institute in New York, the Miracle Theatre and sponsored by Banca Transilvania from Romania.

Check the entire lineup and get your free tickets at www.romanianfilmfestivaldc.com.