Events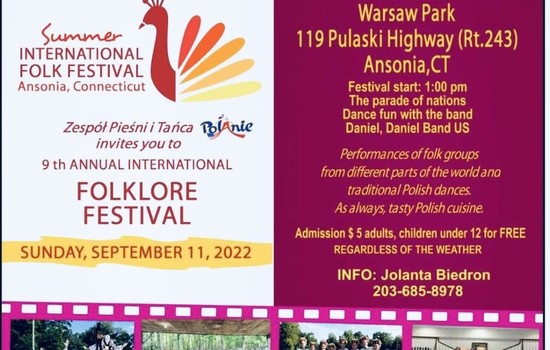 9th Annual International Folk Festival in Ansonia, Connecticut
Posted on: August 29, 2022
Event date: September 11, 2022, 1 p.m.
The Romanian community from Connecticut and the surrounding areas is invited to the International Folklore Festival, organized by the local Polish community and the Polanie dance group on September 11, in Ansonia, 119 Pulaski Hwy, Connecticut. The Festival admission fee is $5 for adults (free for children) and will allow its guests to enjoy musical and dance performances of various folk groups from different parts of the world, a taste of Polish cuisine and several booths exhibiting the creativity, cultural heritage and skills of artisans in the area.
Our Artistic and Cultural Director Iuliana Roata will perform songs from the Northern Romanian region of Bucovina. Together with Romanul organization, we invite the members of our community and its friends to attend, wear a traditional Romanian costume of shirt. Looking to organize a Romanian dance group, Romanul is looking for dancers with any level of experience interested in joining the group and represent Romania at the International Festival. Romanian Corp will also have a booth at the event, where artists and artisans can present their crafts, art objects, books or other materials related to Romanian culture and traditions. Anyone interested in joining the dancing group or display objects or products at the Romanul booth should contact the organizers at info@theromanian.org or reply here on the Facebook event page.