News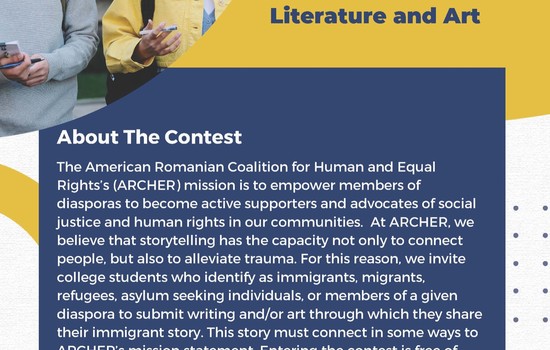 ARCHER Call for Submission: Telling Our Immigrant Stories
Posted on: August 31, 2022
We invite you to take part in the art and writing competition launched by "American Romanian Coalition For Human And Equal Rights" (ARCHER), competition addressed to everyone who identify as immigrant, migrant, refugee, asylum seeker or member of a diaspora community, which is enrolled, at least part-time, as a student at a university or college in the US, undergraduate and graduate students alike. The contest, named "Telling Our Immigrant Stories" is built on the idea that storytelling can build a sense of community, belongingness, and heal trauma.
There are five distinct categories submissions can be sent to: essay, poetry, fiction, visual art, drama/film. Entering the contest is free of charge and submissions need to be sent to info@archercoalition.org until October 10, 2022. The full Telling Our Immigrant Stories call for submissions can be accessed on ARCHER's Facebook page.
ARCHER is an international, voluntary, non-governmental, non-profit initiative founded by Romanians and Americans, which advocating for social justice and human rights, while building and improving diasporic communities that recognize and include all historically marginalized groups, regardless of their racial, ethnic, gender, and sexual identity. The Honorary Consul Dana Bucin is a board member of ARCHER since 2021.

Image | ARCHER