Events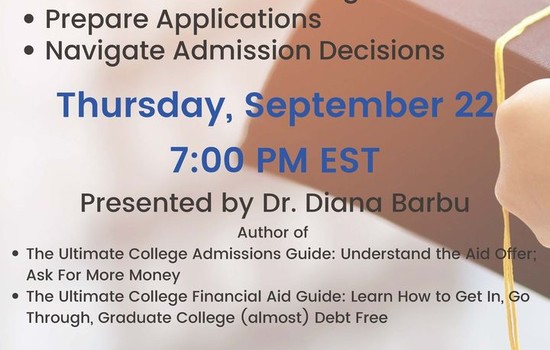 College Admissions Webinar for the Romanian American community
Posted on: September 10, 2022
Event date: September 22, 2022, 7 p.m.
Our partner Romanul Corp is inviting high school students, parents, and anyone interested, to the "College Admission Webinar" event held by Dr. Diana Barbu, Ph.D that will take place on 22 September 2022 at 7 PM EST. Dr. Diana Barbu, Ph.D., is the author of "The Ultimate College Admissions Guide: Understand the Aid Offer & Ask For More Money" and "The Ultimate College Financial Aid Guide: Learn How to Get In, Go Through, Graduate College (almost) Debt Free". She is currently Senior Director of Research at Middle States Commission on Higher Education.
In this first webinar, you will learn how to:
Build a Balanced College List
Prepare Applications
Navigate Admission Decisions
This presentation can be repeated by request during Fall 2022.
If you are interested in the event, register at https://romanulonline.org/seminars to obtain the Zoom link for this meeting.