Events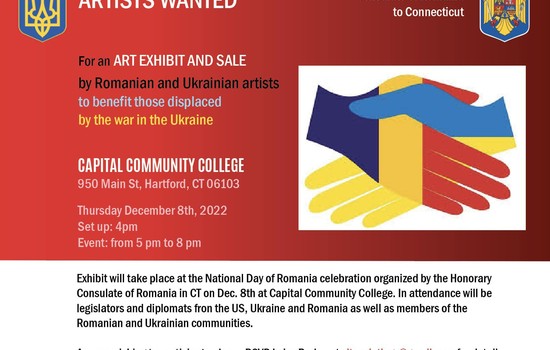 ARTISTS WANTED!
Posted on: November 15, 2022
Event date: December 08, 2022, 4 p.m.
Artists are wanted for an Art Exhibit and Sale by Romanian and Ukrainian artists to benefit those displaced by the war in the Ukraine. The exhibit will take place at the National Day of Romania celebration organized by the Honorary Consulate of Romania in CT on Thursday December 8th, 2022 at Capital Community College on 950 Main St, Hartford, CT 06103. Set up will start at 4pm, before the event scheduled from 5 pm to 8 pm
In attendance will be legislators and diplomats from the US, Ukraine and Romania as well as members of the Romanian and Ukrainian communities. Join the Ambassador of Romania, His Excellency Andrei Muraru, our Honorary Consulate and the Romanian-American community in CT in celebrating Romania's National Day and 25 years of strategic partnership USA - Romania. The program will feature speeches by Luke Bronin, Mayor of Hartford, His Excellency Andrei Muraru, Ambassador of Romania, and testimonies from Ukrainian refugees who arrived by way of the Honorary Consulate's "Connecticut for Ukraine Refugee Matching Program". The evening will provide guests with authentic Romanian food, wines, artistic program by Romanian and Ukrainian performers, and art exhibit and sale with proceeds benefiting Ukrainian humanitarian efforts.
Anyone wishing to participate please RSVP Luiza Budea, Fine Arts Director at the Honorary Consulate of Romania to Connecticut and member of the of the Romanian Artist CONNEction, a new workgroup of professional Romanian visual artists from Connecticut, at citypaintings@gmail.com for details.