News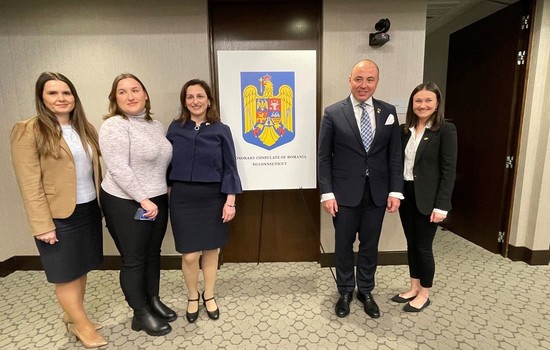 The Honorary Consulate welcomed the visit of Ambassador of Romania to the United States, His Excellency Dan-Andrei Muraru
Posted on: December 11, 2022
This past week, our Consulate and the Romanian community in CT were extremely honored to welcome the Ambassador of Romania to the United States, His Excellency Dan-Andrei Muraru, for three days of intense meetings in furtherance of the 25 years old strategic partnership between the U.S. and Romania, as follows:
DAY 1
➡️ reception at Murtha Cullina LLP with leaders from defense, aerospace, nonprofit and legal sectors about cross-border commercial & philanthropy opportunities with Romania
➡️ meeting with Mitsubishi Power Aero LLC to explore collaboration with Romania's energy sector
➡️ reception at A Villa Louisa where the Ambassador met several leaders and volunteers from the Romanian community
DAY 2
➡️ reception hosted by ACES - Area Cooperative Educational Services to launch the educational cooperation between Connecticut's 25 K-12 public school districts served by ACES and Romania via a special Proclamation issued on this occasion
➡️ visit at Quinnipiac University to discuss establishing a Romanian Endowed Chair to run several educational programs with Romania. Such a Chair would be joining the Hungarian and Polish Chairs under the leadership of Dr. Christopher Ball, Director of The Central European Institute
➡️ visit at Yale University to meet with Romanian faculty, students and doctors and to discuss global affairs at the Yale MacMillan Center
➡️ reception at the Transilvania Restaurant and Bar with East Haven Mayor and several leaders and volunteers from the Romanian community
DAY 3
➡️ reception at Pratt & Whitney with executive leadership from their military and commercial engines division, including from Raytheon Technologies, to discuss cooperation with Romania's defense and aerospace industries
➡️ visit at the Connecticut State Capitol where the Romanian flag was flying high alongside US and CT flags to meet with Governor Ned Lamont, Lt. Governor Susan Bysiewicz and Secretary of the State Mark Kohler to discuss Romania's role as strategic NATO ally bordering Ukraine, the Connecticut for Ukraine Refugee Matching Program (ctukraine.org) and the opening of US-Ro Center - a new hub for distributing high-quality Romanian merchandise in CT/USA, including furniture and musical instruments. Many thanks to the State Representative Tom Delnicki for graciously hosting the Ambassador at the State Legislature!
➡️ meeting with Hartford Mayor Luke Bronin to discuss holding a Romanian festival in Hartford and promoting Romanian arts and culture in the state capital
➡️ attend the Romania National Day in Hartford & 25 Years of Strategic Partnership USA-Romania organized by our Consulate with support from our sponsors and an entire Romanian community of performers, artists, food caterers and volunteers.
Please check the Honorary Consulate's page to find out more on the National Day of Romania and other meetings and festivities organized with the occasion of the Ambassador's visit.
We hope this is only the first of many visits to promote business and cultural exchanges between Connecticut and Romania!