News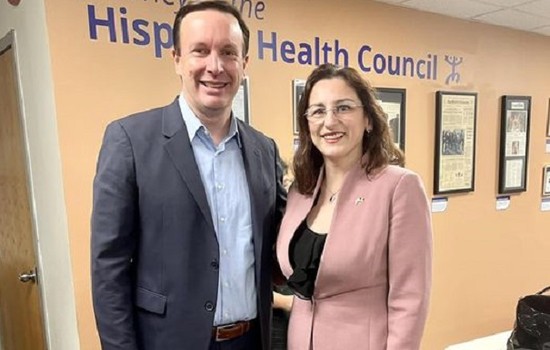 Meeting with Sen. Chris Murphy at the Hispanic Health Council on problems related to immigration
Posted on: January 15, 2023
Honorary Council Dana Bucin participated in an important meeting organized by CIRI Connecticut Institute for Refugees and Imigrants, and the Hispanic Health Council, between Senator Chris Murphy and several representatives of Connecticut groups and organizations providing support to immigrants. Among these, CIRI - Connecticut Institute for Refugees and Imigrants, Catholic Charities, Hartford Public Library, Center for Immigrants Opportunity, CIRC, Elena's Light and others. The discussants exchanged ideas about possible sollutions for the border crisis, the legal status of Dreamers, increasing the number of H-1B, H-2B and H-2A visas while ensuring compliance with US and foreign workers' rights and protections; ensuring fast processing of work authorization for all eligible; maximizing permanent paths to citizenship for immigrants currently on U.S. soil on humanitarian parole and other temporary statuses; continuing funding for supporting newly arrived refugees and humanitarian parolees via local refugee resettlement agencies and NGOs (ESL, job placement, housing, etc); strengthening "rule of law" protections for immigrants in removal proceedings by submitting the Immigration Courts to Congressional rather than DOJ authority.
The Senator highlighted how the majority of the migrants at the border ARE NOT FROM LATIN AMERICA but rather from countries such as Russia, Uzbekistan, China, India, Bangladesh, Moldova, etc, illustrating the great need for a better framework for processing those fleeing persecution.
Many thanks to the Connecticut Institute for Refugees and Immigrants and the Hispanic Health Council for organizing and hosting this debriefing!