Events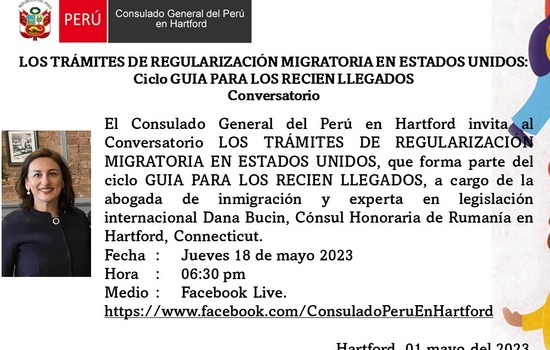 Presentation: The Immigration Regulation Procedures in the United States
Posted on: May 18, 2023
Event date: May 18, 2023, 6:30 p.m.
Honorary Consul of Romania to Connecticut Dana Bucin is happy to collaborate with the General Consulate of Peru in Connecticut to present on US Immigration Law for new arrivals, in Spanish.
The meeting will be covering asylum, Convention Against Torture, cancellation of removal, and many other forms of securing legal status in the US, live on Facebook. Tune in for the discussion on Thursday, May 18 at 6:30 pm, on the Peru Consulate's Facebook page for a live streaming of the presentation: https://www.facebook.com/ConsuladoPeruEnHartford.