News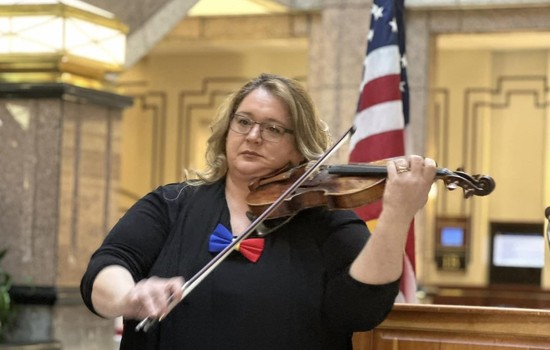 Congratulations to Mirela Panaitisor for being honored at the CIRC Immigrant Day ceremony
Posted on: May 24, 2023
Honorary Consul Dana Bucin introduced Mirela Panaitisor, owner and instructor at The New Old School of Music, LLC, as one of the 7 naturalized citizens honored today at the Connecticut State Capitol as part of CT Immigrant & Refugee Coalition - CIRC's 23rd Annual Immigrant Day. We were proud to hear Mirela delight us with her violin on the tune of a Romanian folk song by Romanian composer Bela Bartok which filled the entire Legislative Office Building Atrium while several dignitaries- from Lt. Governor to Attorney General to Secretary of State and several legislators- honored us with their presence and citations.
Mirela's Bio presented at the event:
With a double degree in Violin Performance as well as Music Education, Mirela has been a dedicated educator for the past 32 years. In 2017, Mirela encouraged by her husband Adrian decided to pursue her "American Dream" and opened the doors of The New Old School of Music, a business she built from the ground up and which today helps over 200 families (adults and children) develop a lifelong love for music and reach their full potential - whether it is to reach Juilliard level or learn to play an instrument or sing to soothe their soul. Notable achievements of her students include successful auditions to Juilliard Pre-College Division, Carnegie Hall Honors Orchestra, auditions for WHPS' "Camerata" and "I Giovani Solisti" chamber orchestras, select groups at Hartt School of Music, Inter El, CT Regionals, All-State Festival, as well as music competitions abroad.
One of Mirela's interests is a long and assiduous research regarding the benefits of learning music in children with autism and how the process contributes to their increased language acquisition, heightened processing speed, calmer behaviors, and to more harmonious development. Classes are adapted to include movement as needed, use a variety of positive reinforcement tools, and are sensory-friendly.On a market saturated by "one-size-fits-all", The New Old School of Music's teaching approach is to adapt the lessons to fit every student's individual needs, including children with special needs who can't find adaptive music lessons anywhere else.
Community service:
Recognized as a trusted fellow musician and passionate advocate of the arts, Mirela was appointed in 2020 as a member of the Commission on the Arts by the West Hartford Town Council. Mirela also serves as Principal-2nd for West Hartford Symphony Orchestra, a non-profit organization that promotes talent within the community and offers people the chance to perform together. During the pandemic, Mirela offered a free online music program for the young kids within the community yet her Facebook Live program quickly reached and helped many families abroad connect and find support during the toughest part of the lockdown.
When the war in Ukraine started, Mirela found out that one young violinist (Iulia Gherghisan) escaped the atrocities by crossing the border into Romania yet without her instrument. A few kind-hearted volunteers at the border helped the violinist procure an instrument and Mirela reached out to offer her music guidance and free online violin lessons.
Actively engaged in the Romanian community and church, Mirela loves volunteering her time promoting Romanian culture, language, music, and traditions at any chance she gets. She serves as Vice President of the "Românul Corporation" (The Romanian) as well as FORA secretary (Federation of Romanian-American Association across US).

Distinctions:
October 2019, West Hartford CT "Musician of the Month"
April 2021 "CT Entrepreneur Awards" finalist
October 2021, Sinaia-Romania "Top 100 Romanians Abroad Award"
Entrepreneurial Women's Business Center, Univ of Hartford -"Surviving COVID-Succes story" Nov 2021 (see attached document)