Events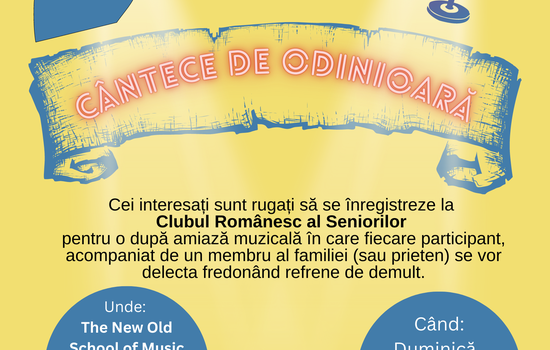 "Songs of Yesteryear" at the New Old School of Music
Posted on: May 24, 2023
Event date: June 25, 2023, 4 p.m.
The New Old School of Music, in collaboration with members of the Honorary Consulate, cordially invites you on Sunday, JUNE 25, at 4:00 PM to the socializing event "Cantece de ordinioara" ("Songs of Yesteryear"). Each attendee, along with a family member (or friend), will delight in listening and singing Romanian tunes of yesteryear with us.
We invite those interested in participating in an afternoon of music at the Romanian Seniors Club to fill out the form below:
https://forms.gle/TNBLbJ1mYNP73DHG6
We look forward to seeing you!